Features
Status Hero enables collaborative team communication, accurate delivery estimates, better team management, and clarity as to who's working on what.
dashboard
Standups begone
Modern teams are clobbered with notifications from the tools they use to get work done. It's almost impossible to parse all that raw data and figure out who's doing what, towards which goals.
The dashboard sorts it all out. At a glance, you and your team can understand the context of your work, progress made, and jump on blocking issues or other requests for help.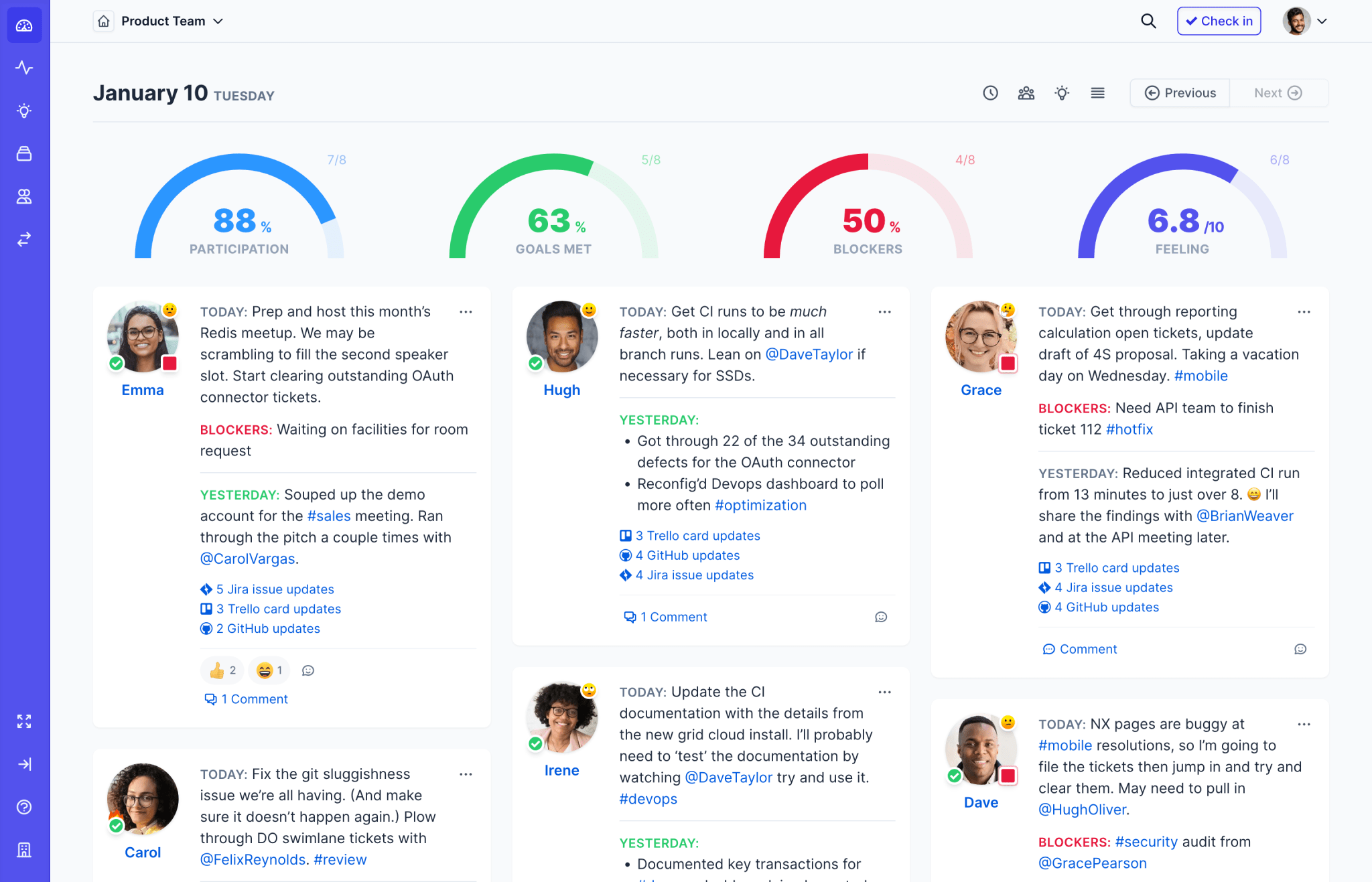 activity stream
Everything that's going on, right now
The real-time activity stream is a one stop shop for what's going on across all of your connected apps. Slice and dice the data by people and/or event types to answer all sorts of questions about what people are up to.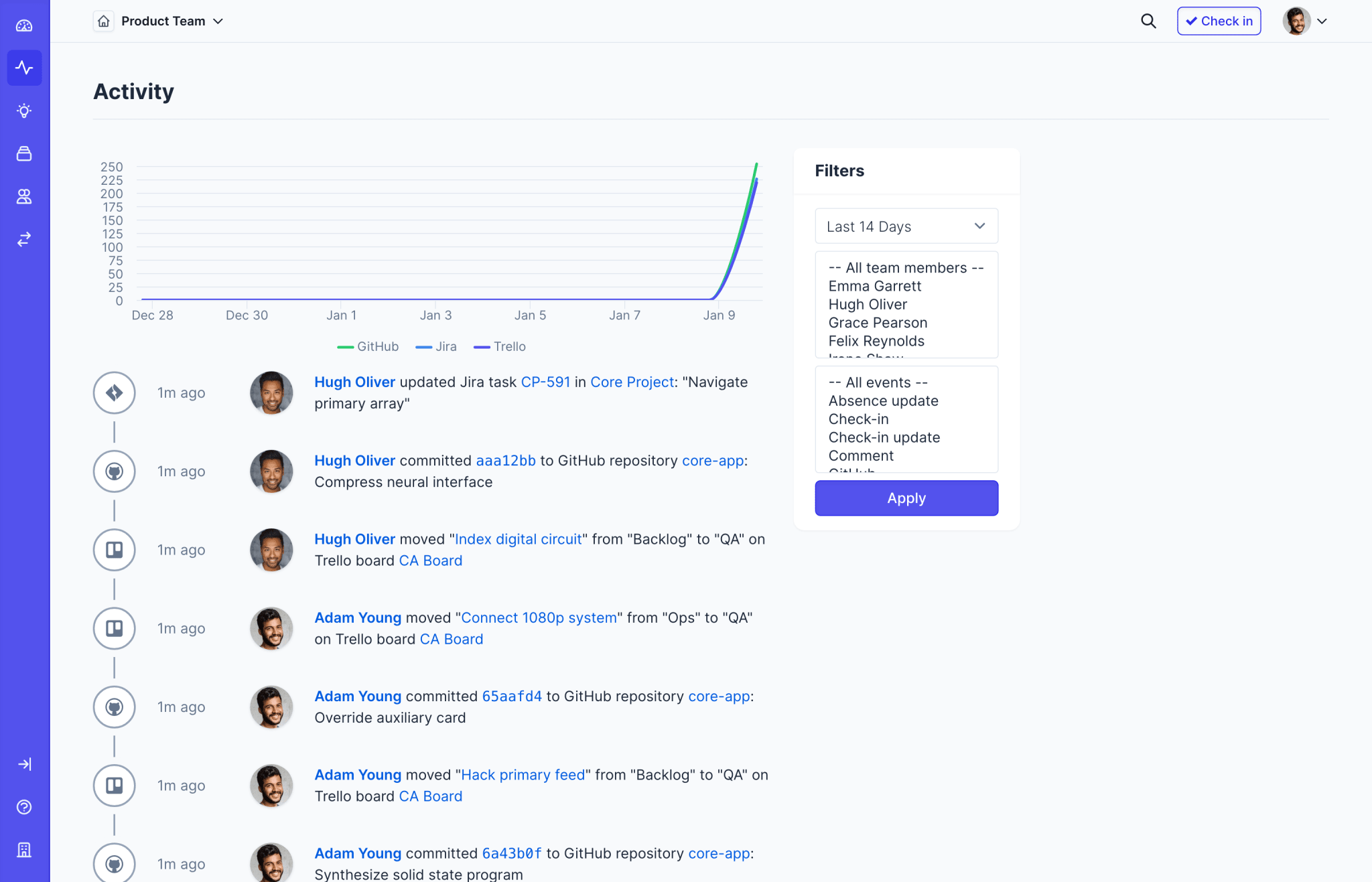 insights
Answer questions about your team
The insights report helps team leads do their jobs faster, easier, and better via the power of filterable data. Are people taking vacation? Who's blocked on what? Are we getting better at hitting our goals? Are people engaged?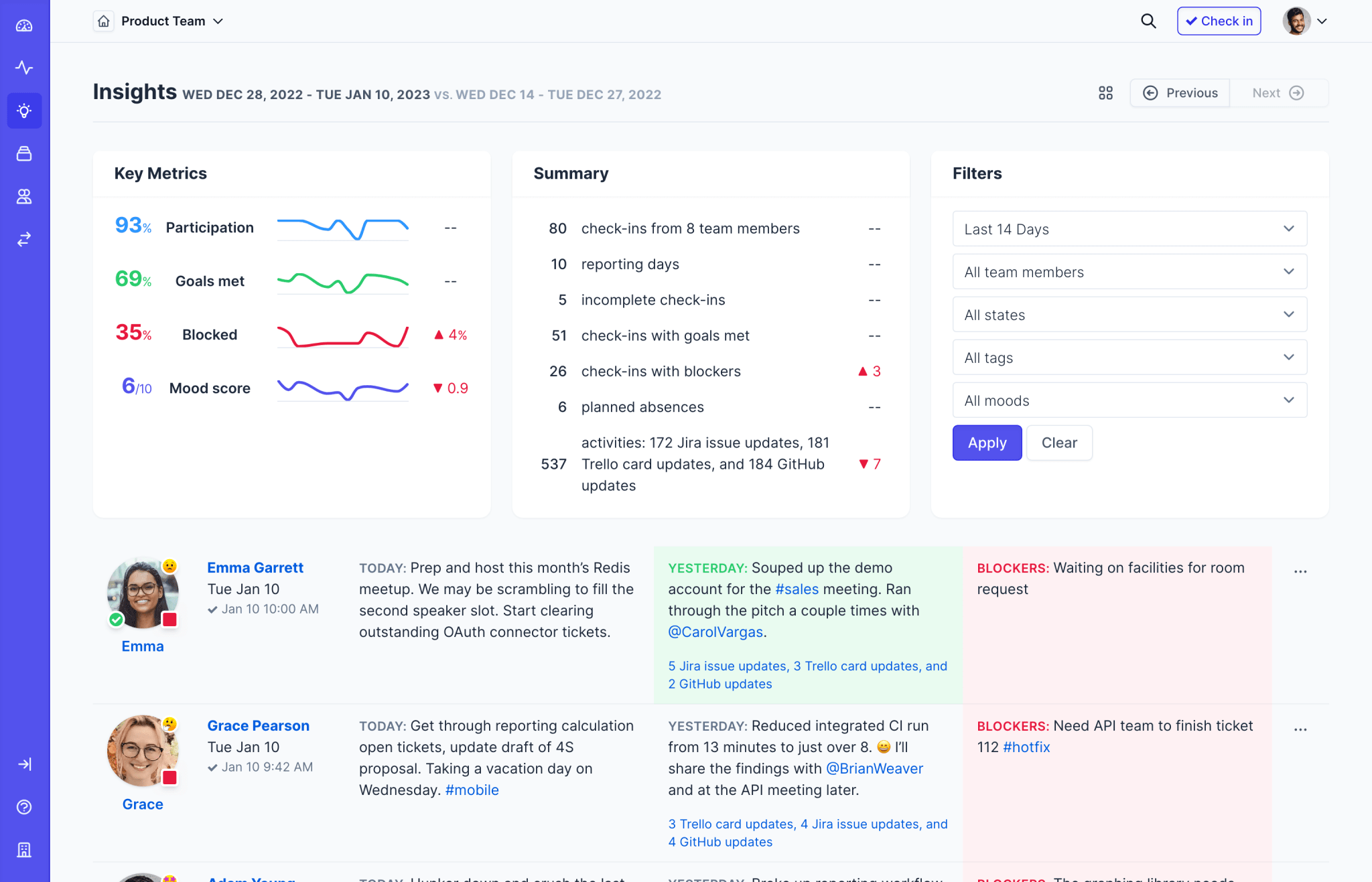 reports
Zoom out on daily check-ins
The reports archive gives you a consolidated, scannable view of all the daily check-in reports for your team, and plots all the key metrics over time.
See if you're getting better at clearing blockers, how mood is trending, and more.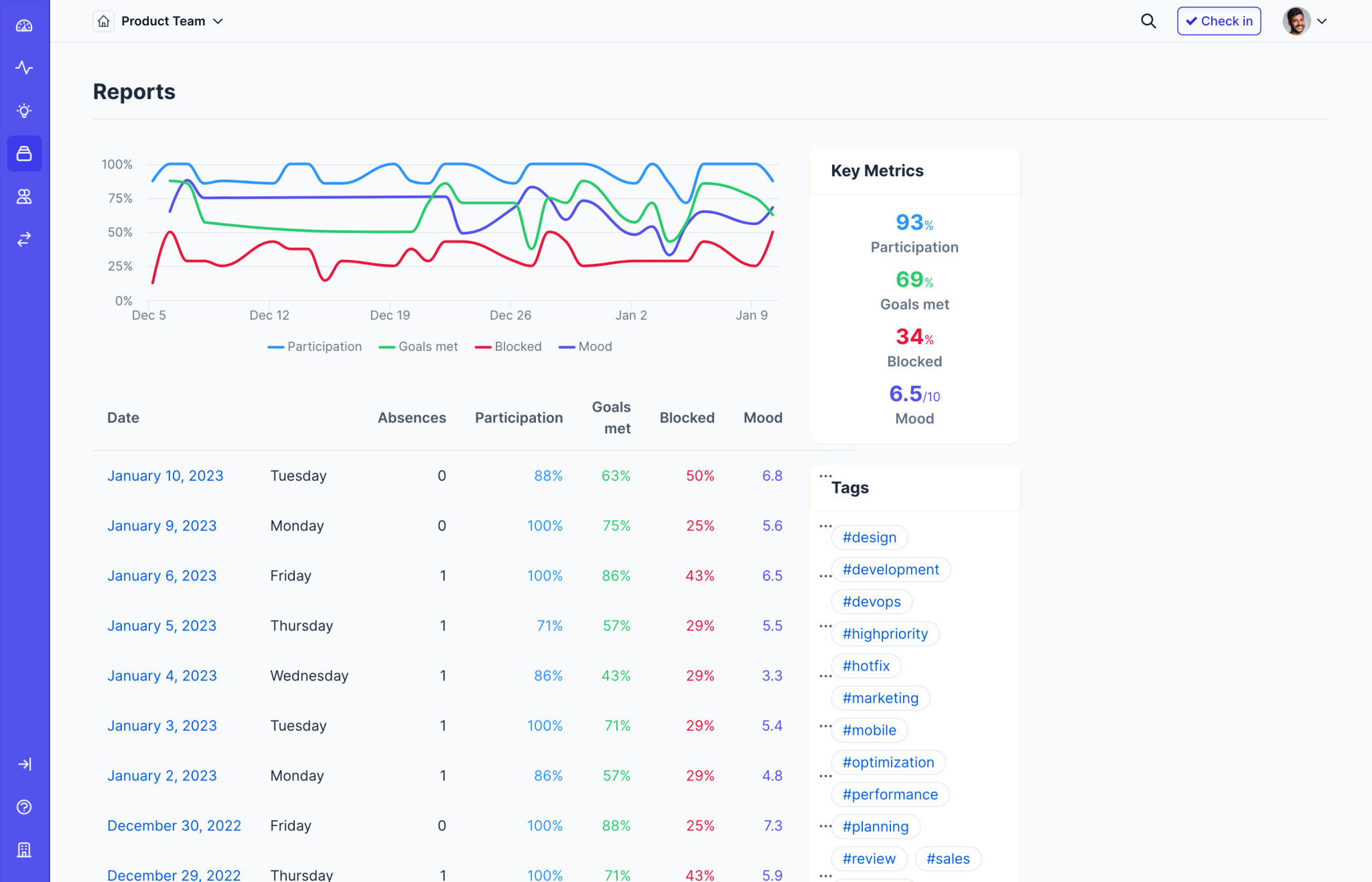 profiles
Your 1-1 co-pilot
Team profiles show a filtered view of each persons's daily check-ins and some handy roll up stats; how often they complete their daily goals, their average mood score, etc.
It's a quick way to get up to speed on what someone's been working on, and an ultra-handy reference for recurring one-on-ones.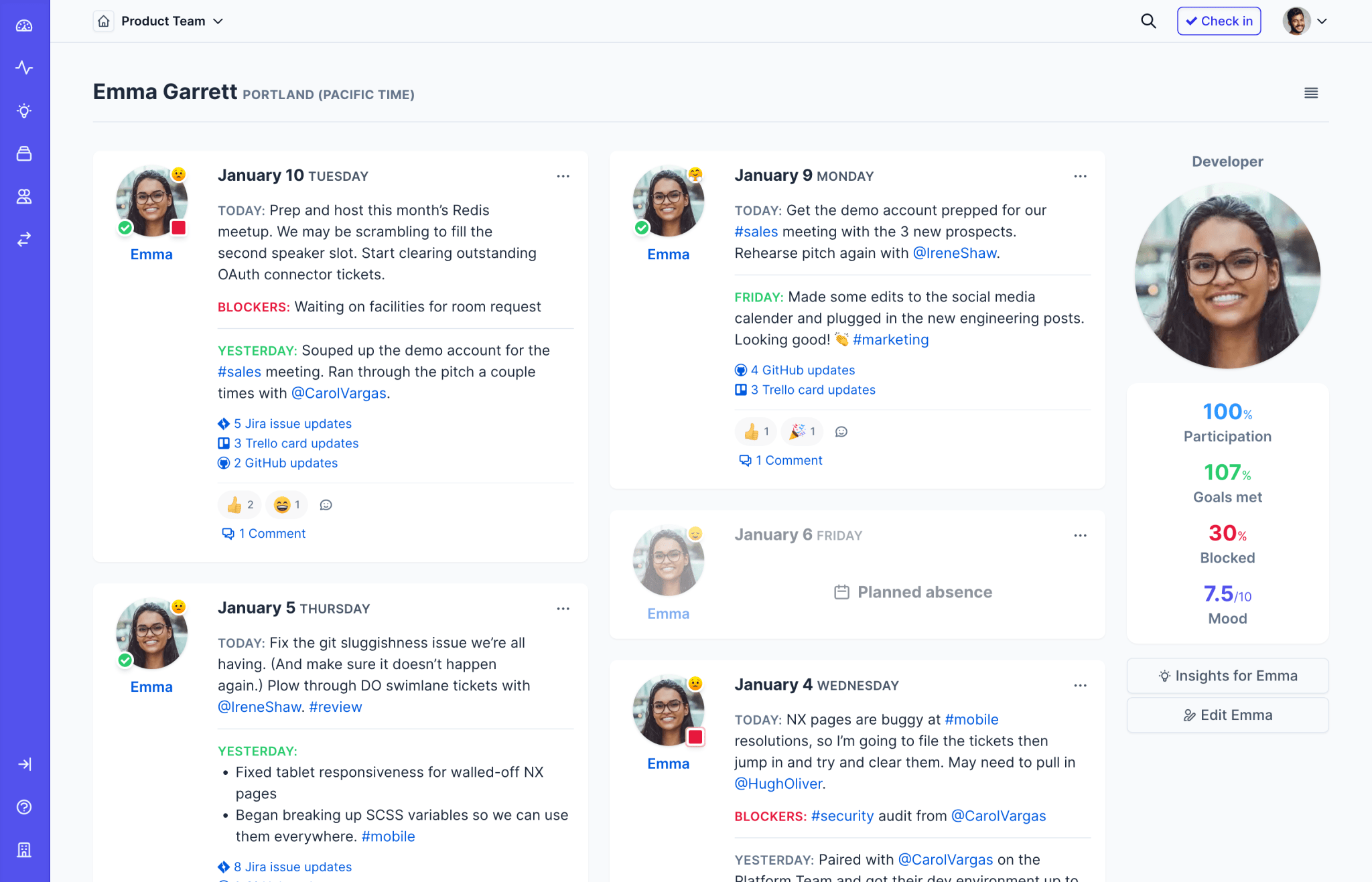 The works
Frictionless Check-ins
Status Hero collects check-ins with brief questions in the channel of your choice: email, chat, or SMS. Single-click "magic links" take your team members directly to the check-in; no login required.
Familiar Formatting
Your team can use markdown and emoji in check-ins and comments to convey information in the way they see fit.
Insightful Reports and Team Transparency
We designed the team dashboard and the rest of the reports to deliver the information and clarity you and your team need to continuously improve and succeed.
Hundreds of Integrations
Status Hero works with your communication tools like Slack and Microsoft Teams for check-ins and report distribution. Connect your project management tools to automatically display updates alongside team check-ins and in a real-time activity stream.
Time Zone Aware
Status Hero abstracts away all of the time zone math for teams working across multiple geographies, giving everyone the information they need at the right moment.
Comments, Reactions, and @mentions
Team members can quickly comment and react to each other's check-ins, enabling communication, transparency, collaboration, and engagement.
Tailor and Tune to Fit Your Team's Needs
Start with a set of intelligent defaults, then customize timing, questions, and other configuration settings to suit your team.
Multiple Teams and a Company-Wide Dashboard
Setup multiple teams and team member roles for your organization, and keep track of the top-level metrics from a single dashboard.
Power-up One-on-One and Retro Meetings
Filter check-ins by team members and other data, and then compare key metrics across periods. So you'll have all the data you need at your fingertips for your 1:1s and retros.
Observer Mode
Keep stakeholders in the loop by designating them as observers; they'll get the reports but won't get nagged with check-in prompts.
Goal Tracking
Each check-in depends on the goals set in the previous check-in, so your team gets better at setting expectations for both themselves and their teammates. And in turn, you get better at coming up with delivery estimates.
Streaks
When team members hit their goals for consecutive check-ins, their streaks are incorporated into the dashboard and other reports.
Blocker Alerts
Status Hero alerts you and the team in real time when team members report blocking issues or other instances where they need help in order to make forward progress.
Mood Tracking
Emotional state plays a big part in the workday. Keep tabs on it by letting your team members signal their mood with an emoji. It's a non-intimidating way of generating empathy and smoothing over internal communications.
Vacations and Holidays
Set up a calendar of time off in advance at the team or individual level. Team members can also mark themselves as absent directly in their check-ins.
#Hashtags and Search
Use customizable #hashtags to categorize check-ins and map them to your initiatives. And quickly search check-ins by phrase or external identifier, like a Jira issue ID.
Kiosk Display and Dark Mode
Project your team's progress on a big monitor with the press of a button. And flip your Status Hero dashboard to dark mode to fit in with your other tools.
Approved for the Enterprise
We count financial institutions and government contractors among our customers. Our experienced team is ready for your procurement process and security review.
Get started with Status Hero:
Free 21-day trial, no credit card required.